Kings of Urartu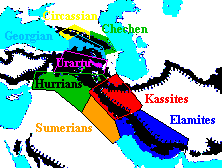 | | |
| --- | --- |
| Aramu/Arame | c.860-c.840 |
| Sarduri I | c.840-c.825 |
| Ishpuini | c.825-c.810 |
| Menua | c.810-c.785 |
| Argishti I | c.785-c.763 |
| Sarduri II | c.763-c.734 |
| Rusa I | c.734-c.714 |
| Argishti II | c.714-c.685 |
| Rusa II | c.685-c.645 |
| Sarduri III | c.645-c.635 |
| Erimena | c.635-c.629 |
| Sarduri IV | c.629-c.590/585 |
The existence of Urart.u was hardly even suspected until so much about it was found in the Assyrian annals. Even the name Urart.u is Assyrian. In Urartuan it was Biainili. This a good clue that Urartuan was an unrelated language. It was. The language was one of the non-Semitic and non-Indo-European languages of the ancient Middle East, like Sumerian, Elamite, Hurrian, and Kassite, and like three separate groups of surviving languages in the Caucasus (Georgian, Circassian, etc.). The language is known from Urartuan inscriptions; but there are no other texts or literature surviving in the language, so our knowledge of Urartuan history is relatively impoverished. When the Assyrian records cease to be informative, and Urartuan inscriptions thin out, events disappear from history.
Urart.u was regarded by the Assyrians as a major enemy. They were ultimately able to defeat and roll back the Urartuans, but never overrun or conquer them. More damaging for the survival of the Kingdom were nomadic inroads by the Scythians and Cimmerians. After Rusa II things get very obscure, and the only certain thing (more or less) is that the Medes end up in possession of the area, variously stated as by 590 or 585 -- part of the campaign that led to Lydia and the Battle of the Eclipse. What is curious is what emerges next: the Armenians. The Urartuan language disappears, like the closely related Hurrian. The classic Kingdom was already a mixture of various groups, as can easily happen in a mountainous region with isolated valleys, including speakers of an Indo-European language, Armenian, apparently closely related to Phrygian and Cappadocian further west. The Urartuan speakers ended up linguistically and/or demographically overwhelmed. Urart.u thus tends to be regarded as the institutional predecessor of the later Armenian kingdoms. The word "Urart.u" itself is evidently preserved in the name of Mt. Ararat (16,940 ft.), an active volcano and called Agri. It has gained the reputation of being the site of the resting place of Noah's Ark.
The list of Kings is from Amélie Kuhrt, The Ancient Near East, c.3000-330 BC [Routledge, 1995, 2000, Volume II, p.552] and A.E. Redgate, The Armenians [Basil Blackwell, 1998, 2000, pp.29-30].
A noteworthy detail in Redgate is that a title of the Urartuan King was "Kings of Kings" [p.43]. This is familiar from the Assyrians, Medes, and Persians, but Redgate says that before Tukulti-Ninurta I (1244-1208) used it, it was previously just used for gods (apart from the name of the Sargonid Shar-kalli-sharri, "King of all Kings"). Redgate thinks this implies a claim to divine kingship, passed on to the Persians, not so much from Assyria as from Urart.u.

---
Kelley L. Ross, Ph.D.